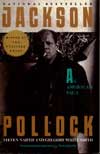 Jackson Pollock: An American Saga
Based on more than 2,000 interviews with 850 people, Jackson Pollock is the first book to explore the life of a great artist with the psychological depth that marks the best biographies of literary and political figures. In eight years of research the authors have uncovered previously unknown letters and documents, gained access to medical and psychiatric records, and interviewed scores of the artist's friends and acquaintances whose stories had never been told. They were also the first biographers in twenty years to benefit from the cooperation of Pollock's widow, Lee Krasner. This biography won Naifeh and Smith the Pulitzer Prize in 1991.

Price: $25.00
To order, call 803-648-0300 or follow this link to order online.